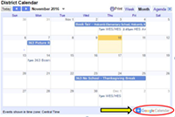 and click on the link.
If you are not logged into your Google Account, you will be asked to log in.
The calendar will be added to your calendar list. Your calendar page will then need to be refreshed in order to view the newly added calendar.
Repeat this process for each calendar you would like to add to your Google calendar.